Discover Al Bidda Park
There is literally something for everyone in Al Bidda Park and we welcome you to come and explore the park at your leisure. Set amongst the beautiful sweeping lawns and beds bursting with flowers there are a number of main attractions. Click on the tabs below for more details:
Play & Entertainment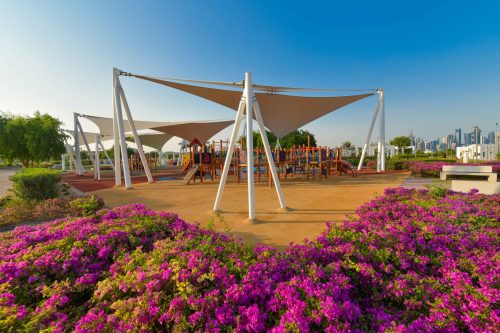 There are eight well-equipped play areas across Al Bidda Park. These contain everything from sandpits and climbing frames to swings and zip lines. Please check our wayfinding map for the locations of the play areas.
The entire park is one giant play area for children. There are two mazes to explore in Arumailah close to The National Flag. Elsewhere, an extensive network of cycle lanes can be used for cycling, rollerblading and skateboarding.
As the park develops, we will be introducing educational activities, especially during school holiday times. If you are interested in developing or signing up for educational activities, please contact us for more information.
School groups are welcome to visit Al Bidda Park. Please contact us to request permission to bring a school group to the park. Schools must provide their own adequate security, first aid and supervision for their visit.