Amenities
A rich variety of plants can be found throughout Al Bidda Park. The park planting has been carefully chosen to provide all-year-round interests with different colors, scents, textures and shapes. Much of the planting has been designed to give a naturalistic style, although there are more formal areas of the park too. The park contains over 514,000 square meters of lawns and 274,500 square meters of planted areas, meaning there is always something interesting to see.
One key theme has been to use plants that are better adapted to the climatic conditions in Qatar. This is good for sustainability and also produces a landscape that does not look out of place in its surroundings. These plants are invariably better for the local wildlife too such as native butterflies and birds.
As the landscape of the park is still new, regular visitors will notice changes on a weekly basis as the trees and plants establish. To protect the landscape, please do not walk into the planted beds or pick the flowers. Trampling and other disturbances damage the plants and their roots.
Nature
Wadi Al Sail Historical Site

Set at the northernmost tip of the park, the Wadi is a unique valley setting that has become a home for wildlife including insects, reptiles and birds. After periods of rain, the wadi turns green with native plants that have adapted to the harsh conditions. For early risers, this is also the perfect location to watch the sunrise over the skyscrapers of West Bay. As this area is a nature reserve and historical site, we ask you not to enter the Wadi itself.

Discovering Wildlife

The entire park is rich in wildlife with many of the plants chosen to encourage wildlife. Look out for birds such as the beautiful Hoopoe as they feed on insects in the lawns. Due to its geographical location, Qatar attracts many migratory birds. Many of these stops off at Al Bidda park on their long journey. Every child loves a minibeast so bring your magnifying glasses and look for those insects such as butterflies and beetles that have made Al Bidda Park their home.

Trees

Did you know that the mature trees in the park were saved from the gardens of the former properties that were once located where Al Bidda park now stands? The park now contains 1,766 trees. Look out for the Sidra Tree which is an iconic tree in Qatari culture. Other trees include the Ghaf Tree and Acacia Tree, both known for their drought tolerance qualities.

Native Plants

In many areas of the park, native Middle Eastern plants have been used to reflect the ecology of the region. These plants provide perfect habitats for local wildlife such as lizards, butterflies and birds. Walk quietly through these areas and you may be surprised what you find.
Architecture & Heritage
The Arched Monument

The monument is a well-known and much-loved landmark in Doha. It dates from the days of the previous Al Bidda Park and is a great location for a selfie or sunset photo.

The Bridge

In July 2018, the steel bridge structure was built and completed artistically & creatively to connect Wadi Al Sail and Arumailah park. As it becomes an iconic structure with its design and purpose, the bridge is the perfect viewing platform to witness the glittering skyline of Doha and the majestic sunrise and sunset.

The Natural Rock and Watchtower

One of the few exposed outcrops of natural stone in Doha, the location provided an excellent strategic location for a watchtower. The restored watchtower serves as a reminder of the rich history of Qatar.

The Water Plaza

Fountains and cascades of water provide the perfect centerpiece for the park. Coming soon in this location will be a café with outdoor seating to enjoy the sound of running water and the beautiful views. In amongst the flower beds are family picnic tables made from stylish white Terrazzo and shaded by gazebos.

The Amphitheater

The view of the modern skyline of Doha from the stone terraces is amongst the best in the park. This area is at the center of cultural activities in Al Bidda Park ranging from children's entertainment to outdoor cinema screenings and musical performances.

Qatar National Flag

Set on top of grass lined stone terraced structure is The Qatar National Flag. The 360-degree views of the park and distant city skyline from this location are well worth the climb to the top.
Sports Activities

Varieties of sports can be played using an excellent range of facilities including football, tennis, volleyball, basketball and an artificial grass football pitch. These must be booked Thru our website or mobile application. For more information Please call our Park office reception at 44287709.
If you would like to participate in organized sporting and wellness activities, check our calendar of events and activities to see what is taking place in the park on a monthly basis. A number of sporting events are planned to take place in the park each year. These are advertised on our website, along with information on how to take part.
Please download our online Activity Application Form if you need to request an activity in Al Bidda Park and send it back by email to info@albiddapark.com.
PSG ACADEMY LANDS IN AL BIDDA!
PLAY THE PARIS WAY TODAY!
Learn first-hand from Paris Saint-Germain Academy coaches through unequaled educational experiences. Be part of the Paris family by REGISTERING TODAY!
DATES: 27TH AUGUST – 16TH DECEMBER 2023
CLICK HERE TO REGISTER.
For questions contact PSG Academy:
• WhatsApp: 3306 2115
• Email: info@psgacademy.qa
Play & Entertainment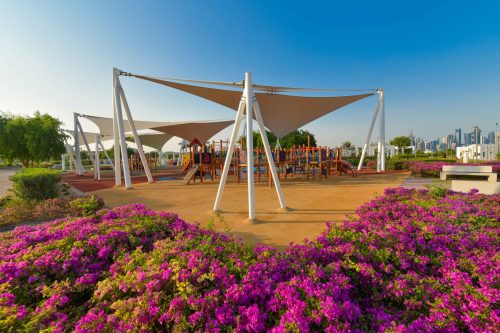 There are eight well-equipped play areas across Al Bidda Park. These contain everything from sandpits and climbing frames to swings and zip lines. Please check our wayfinding map for the locations of the play areas.
The entire park is one giant play area for children. There are two mazes to explore in Arumailah close to The National Flag. Elsewhere, an extensive network of cycle lanes can be used for cycling, rollerblading and skateboarding.
As the park develops, we will be introducing educational activities, especially during school holiday times. If you are interested in developing or signing up for educational activities, please contact us for more information.
School groups are welcome to visit Al Bidda Park. Please contact us to request permission to bring a school group to the park. Schools must provide their own adequate security, first aid and supervision for their visit.
Barbeque & Gazebos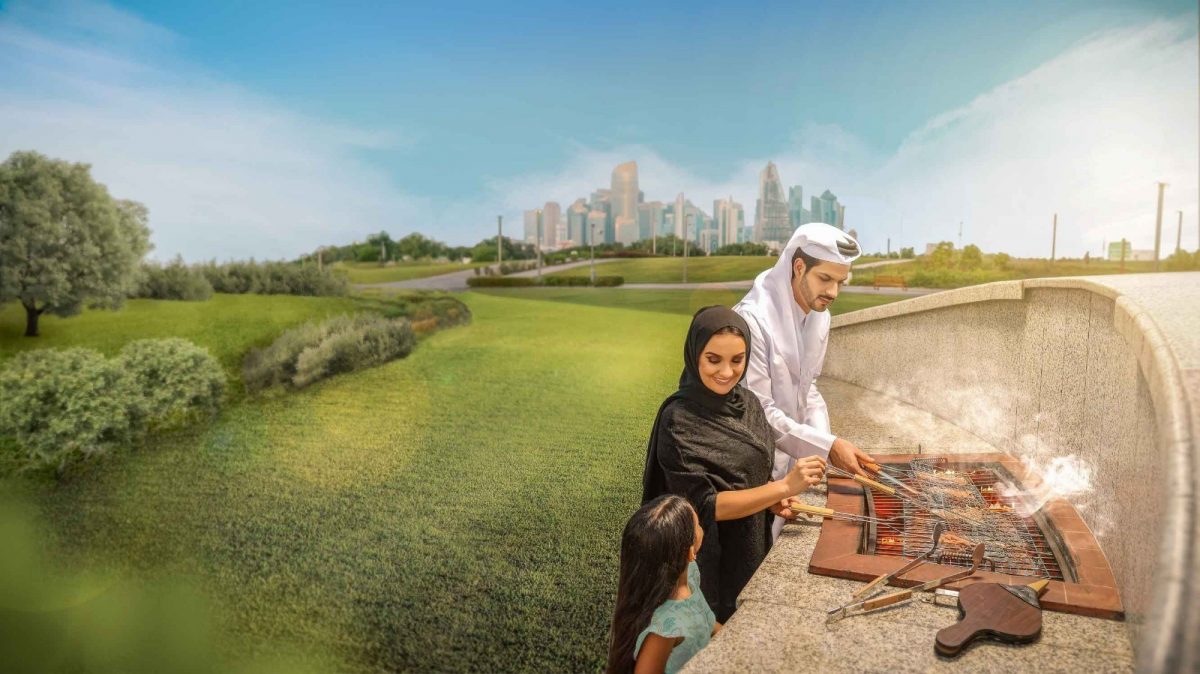 Purpose-built barbeque stations and Gazebos are located throughout the three park zones. These are all available for use during park opening hours on a reservation basis.
For your convenience barbeque stations or Gazebo must be booked in advance thru mobile app or website.
At all times users are advised to use them safely and follow the rules posted at each station. Note that use of barbeque grills is not permitted elsewhere in the park. Please check our wayfinding map for the locations of the barbeque.
For more information please call 30536134